---







FOLLOW US ONLINE VIA:



Spivey Farms is a proud member of the Florida Strawberry Growers Association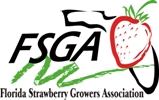 The 2015 U-Pick Strawberry Season will begin Saturday, February 28, 2015. Please visit our u-pick page for all details.




U-pick strawberries: March/April
Corn (Silver Queen, Silver King, Bi-Color): June
Peas (Blackeyes, Conks, Zippers): July
Green Peanuts: August

- NOTE: We only allow u-pick for strawberries at the farm. All other commodities (corn, peas, green peanuts) are harvested by us and sold to the general public.

- All dates subject to change without notice.



In the form below, please enter your e-mail address and the commodities you want to receive an e-mail alert about. The commodities to choose from are:



U-Pick Strawberries, Corn
Peas, Green Peanuts





---
Copyright © 2010, Spivey Farms
Contact the Webmaster