---







FOLLOW US ONLINE VIA:



Spivey Farms is a proud member of the Florida Strawberry Growers Association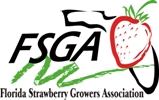 U-Pick strawberry season is now finished for 2013. We appreciate all those that made the time to come visit the farm and look forward to seeing everybody again in 2014. The next crop available at the farm will be corn. Corn WILL NOT be a u-pick, but direct sales to the general public. We should have Silver Queen (white), a sweet white and bi-color (candy) corn to offer. Corn will begin harvesting in June. If you'd like advance notice on corn, please join our mailing list.




U-pick strawberries: March/April
Corn (Silver Queen, Bi-Color): May/June
Peas (Blackeyes, Conks, Zippers, Pinkeyes): July
Green Peanuts: July/August



In the form below, please enter your e-mail address and the commodities you want to receive an e-mail alert about. The commodities to choose from are:



U-Pick Strawberries, Corn
Peas, Green Peanuts




---
Copyright © 2010, Spivey Farms
Contact the Webmaster